"Aug. 18th Program… You stated that no Church is perfect… I respectfully disagree.. Christ is coming after a " Perfect Church ".. "  Eph. 5:27 "That he might present it to himself a glorious church, not having spot, or wrinkle, or any such thing; but that it should be holy and without blemish. Jesus told us in Matt. 5:48 " Be ye therefore perfect, even as your Father which is in heaven is perfect. We must be perfect, for we know that Sin can never enter Heaven. So We can be perfect through Christ ! Amen :)"
Rk
Hey Rk, I appreciate your devotion to the body of Christ! But I think there may be some miscommunication happening, here. In Ephesians 5, Paul is referring to the final group of true believers when the rapture happens, and Judgment Day begins. This is entirely an eschatological reference.
In Protestant theology, we call the "invisible" Church the full body of true believers. By contrast, the "visible" Church is the Church as an institution and includes all people who claim to believe in Christ but may not actually be Christian or fully following God. Consider these three passages:
Parable of the Ten Virgins (Matthew 25:1-13)
True and false disciples (Matthew 7:21-22)
Parable of the Weeds and Wheat (Matthew 13:24-30)
In each example, when Christ returns, there is the body of true believers as well as a body of people who claim to be believers but are not actually believers. So, when Rod or the air team say the Church is not perfect, they simply mean the visible Church is not perfect. It does not discredit the invisible Church being perfected through Christ.
Additionally, as you mentioned, it is through Christ's redemptive work that makes a person perfect, not by their own works alone. This sanctification through Christ is echoed in Ephesians 5: "just as Christ loved the church and gave himself up for her to make her holy….to present her to himself…." (Ephesians 5:25-27) In other words, through the sanctifying power of Christ, one is made holy, but perfection (or glorification) comes on the day of redemption/restoration (Romans 8:18-30). After all, no one is without sin, "If we claim to be without sin, we deceive ourselves and the truth is not in us." (1 John 1:8) And if no one is without sin, then we cannot truly be fully perfect, right here, right now since we have all sinned at one point in our lives–––whether before our Christian confession or after.
So, when we say, "nobody is perfect" or the "Church isn't perfect", it means that we, in ourselves, are not without sin. We need Christ in order to be perfected. Hope that helps clarify where the air team is coming from, Rk–––God Bless!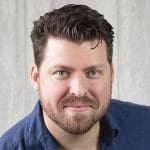 Matlock Bobechko is the Chief Operating/Creative Officer of Bible Discovery. He is an eclectic Christian thinker and writer, award-winning screenwriter and short filmmaker. He writes a weekly blog on theology, apologetics, and philosophy called Meet Me at the Oak. He is also an Elder at his local church.