As I get older it's impossible to ignore the feeling that time seems to be going faster! Do you ever feel like that? In honesty, I don't think that feeling is helped by our quickly evolving technology. The way our societies are operating day-to-day is ever changing with our new tech. If only this tech was helping to solve our moral issues. But as Christians, we know that would be a fool's errand too, don't we? Only relationship with God can enact lasting, good change in our hearts and minds. And boy do our societies' need healthy relationship with God.
Everywhere we look we see trouble. In America there is not only crime, but violations of the constitutional principles that the original founders of the country had written and signed. Will America maintain these constitutional principles? Especially since these principles were tooled after the concept of a moral God existing.
In Canada we also have a charter of rights and freedoms that begins, "Whereas Canada is founded upon principles that recognize the supremacy of God and the rule of law." Again, the idea is that God is the supreme being who we guide ourselves by.
But what do we believe? What will we choose? A God-oriented life, or a me-oriented life. They have very different outcomes. In the West, we are in a crisis of right and wrong. If our feelings become the determiner of right and wrong, we will not recover.
This morality crisis is all too human, isn't it? Adam and Eve set a precedent for us all those years ago. Thankfully, this isn't a surprise to God. Even if we just constrain ourselves to the gospels, I see Jesus' teaching in Matthew 24 as a beacon of deep hope. God is in control. His authority stands. This world is not the end. Our King lives, and He will return.
Let's serve Him faithfully until He does.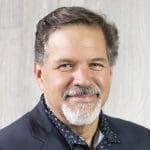 Pastor Rod Hembree, ThD, DE is the founding pastor of Good Friends Fellowship in Ontario, Canada. He brings his extensive production background and Biblical training together to serve the Body of Christ as the daily host and Executive Director of Bible Discovery. He also hosts a YouTube channel for live prayer and difficult questions.